Welcome to Year 2W.
Teacher: Miss Whitley.
Teaching Assistant: Mrs Mundy-Gill.
Through our topic, we have been learning to construct and interpret tally charts, pictograms and block graphs. When we made a block graph, we had to work collaboratively as each group had to take responsibility for an element of the graph. Then we made questions to challenge each other to interpret the graph.
Beachcombers
This half term, our topic is called Beachcombers! To engage us in our topic, we went outside and completed activities that you could do at the beach.
Land Ahoy!
This half term, our topic is called Land Ahoy. To start our topic, we had a pirate day at school where we all dressed up. During the day we read pirate stories, completed a maths challenge and went orienteering around school. Our role play area has been transformed into a pirate ship where we can dress up and become pirates!
Wriggle and Crawl
For the innovate part of our topic, we were set a mission to create a video using photo story to show the life cycle of a mini beast. We either chose to show the life cycle of a lady bird, an ant or a fly. We learnt how to import photos, use a range of editing tools, change the transitions; including the start and end position of each photo and compose our own music. Have a look at Shay and Alfie's video below.
As part of this topic, we are exploring the wonderful world of mini beasts. To engage us, we had a special visit from Austerfield Study Centre. They brought some fantastic mini beasts for us to observe and handle.
HG - "It was fantastic, I found lots of mini beasts in the leaves and looked at them through the magnifying glass."
MS - "I held the millipede, it tickled when it went across my hand. It made me laugh."
Our role play area has been transformed into a mini beast investigation lab where we have our very own wormery to look at.
Here is our Spring term curriculum leaflet.
Street Detectives
We have been looking at the paintings by the local artist John Bird. We looked in detail at the paintings and decided which part we liked and why. We have then used his paintings as a stimulus for our own paintings of Bawtry. We can't wait to show you them when we open our gallery on Thursday and Friday morning. We hope you can come and look at them!
For homework, we wrote directions for our journey to school and timed how long it takes. We then created graphs to show the time it takes all Y2 children to get to school. Here is Oliver Bardell's comparative bar chart!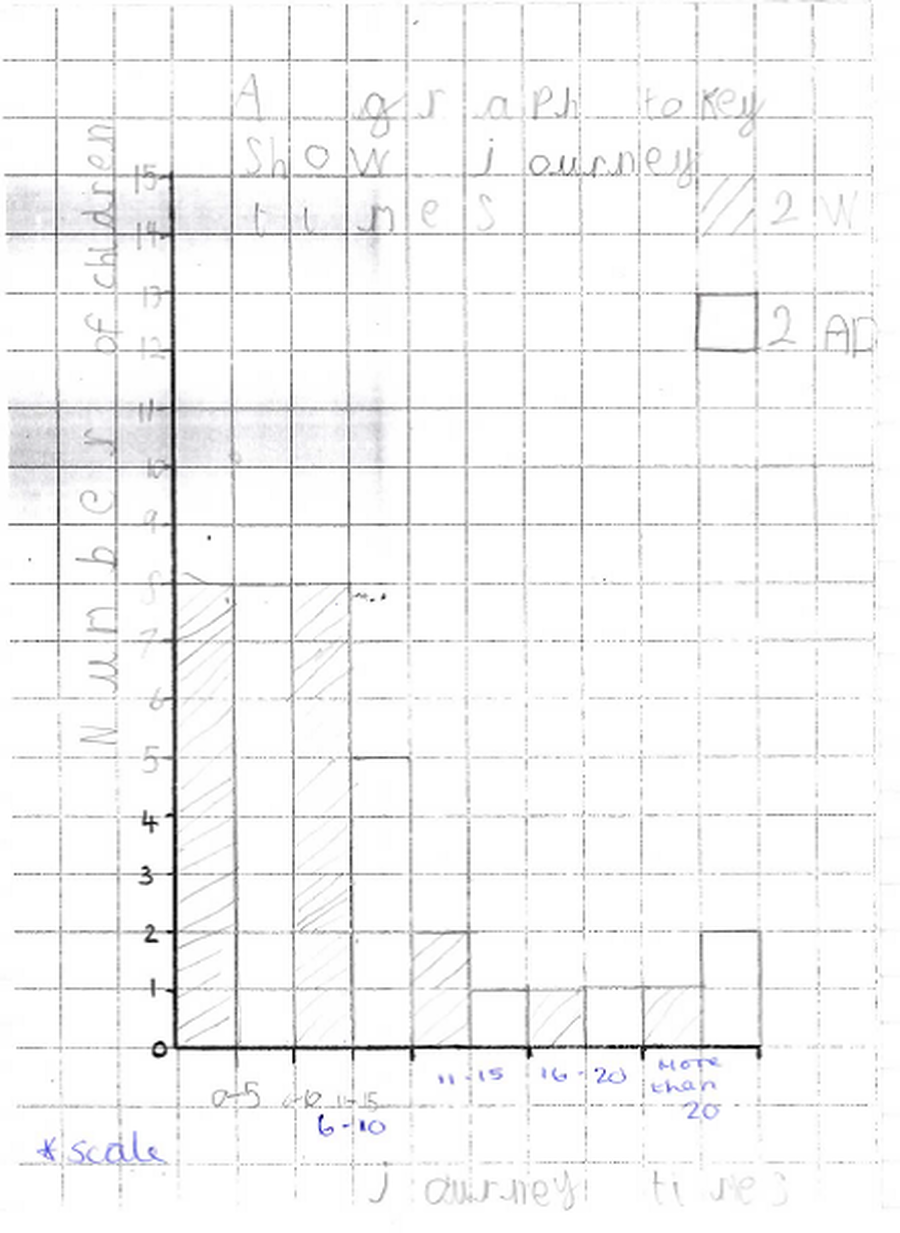 We learnt to draw 3D houses and then we looked in detail at the properties of the materials used to build a house. We described them using key words in our word bank.
Alfie - Glass is a good material for windows because it is transparent, hard and waterproof. On the other hand, cardboard wouldn't be a good material for windows.
Holly - Brick is a good material for the walls because it is opaque, strong and waterproof.
Below is Ruby Costello's labelled drawing of a 3D house.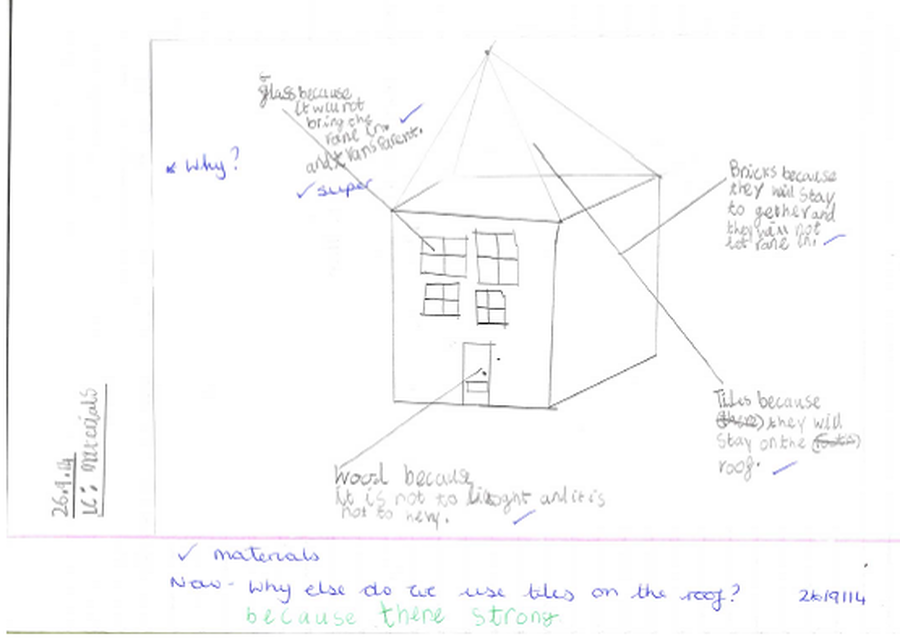 Here is our Autumn term curriculum leaflet.
Charlie and the chocolate factory
Year 2 have settled into their new class well. They have enjoyed reading Charlie and the chocolate factory and have done lots of work surrounding this. They have explored the ingredients in chocolate and used a map to locate the countries that they come from. Also, we have learnt all about our senses and used these to do some fantastic descriptive writing, here are some examples...
Beth Cooke - Yummy, appealing and attractive the delicious chocolate slipped down my throat.
Freya Keenlyside - I used my hands and I touched white sugar that looked like snow.
Computing:
Year 2 are very excited about our computing work this half term because we are exploring programming by becoming astronauts!
First, we became familiar with the language of computing by programming our partners to travel around the playground from the planet Earth to the moon and we had a go at writing algorithms for this:
Forward 5
Turn right
Forward 10
Then, we went into the hall to try programming a Beebot to travel from the earth to the moon by inputting an algorithm. If we weren't successful, we had to do some problem solving and debug our algorithms!
We are now working on a program called Scratch. So far, we have created our own space backdrops and rockets. Next week, we will learn how to program our rockets to travel around their space background.
Below is the link for Scratch online. Year 2 - why not visit the website and show an adult what fantastic work you have been doing? You will need to click on 'Create' at the top of the page on the Scratch website.

As part of RWI children will:
learn or review a new sound each day.
read Green (decodable) words
read red words and spot their grotty graphemes.
read speed words
listen to an exciting story introduction.
discuss and learn new vocabulary
read the story
read with fluency and expression
hold a sentence
answer questions on the text
edit sentences
complete a writing activity.
General Reminders for Year 2
PE will be usually on a Tuesday but remember to bring your PE kit into school on a Monday and leave it in school until Friday in case it is needed later in the week
Remember to read your RWI book to an adult at home at least 3 times per week and record this in your home/school book
Remember to practise your 2, 5 and 10 times tables at home at least 3 times per week
Make sure you try your best in every piece of work that you do
Enter text...