Welcome to Year 4....
Teacher: Miss Hinton
Teaching Assistant: Mrs Miller
Summer 1 - Potions
There are some powerful and deadly potions out there—dangerous and unpredictable or plain tragic (just ask Romeo and Juliet!) .To hook the children, they were asked to bring in different potion bottles and we used pencil sketching to practice creating tone and texture. They used shading to show light and shadows. Next, they painted their potion bottles. A number of brush techniques were used to produce shapes, textures, patterns and lines.
This topic has a Science focus and teaches the children scientific concepts such as solids, liquids and gases. Year 4 will be using what we know about materials and their properties to create incredible potions. The children will learn the history of potions and how they have been used in the past. Within PE, the children will create dances using potions as stimulus.
English
During our English lessons, we created our own instruction texts. We practiced descriptive phrases by writing 'How to make a rainbow'. Can you spot the alliteration, similes, collective nouns, adverbs, adverbial phrases and conjunctions?
Next we are going to write our own poetry based on a poem from Macbeth - look out for examples of the children's work .
Maths - capacity
Year 4 loved going outside to practice estimating and measuring different potions using a variety of measuring cylinders. We wrote our own s2s for reading a scale and used these to solve problems. To apply the skills we learnt during our measures lessons, we carried out an investigation to see how much Hermione's potion would cost and the total capacity of the potion. Lots of the information was jumbled up so we needed to see what was relevant before working out the cost of individual ingredients. Eventually we realised the potion was for ten doses so then we worked out how much it was for one dose.
Spring 1 2014
Blue Abyss
Grab your wetsuit! We're going deep into an underwater world of incredible coral and mysterious sea creatures.
What are those bright lights in the distance? It's a group of bioluminescent sea creatures! Look closely and create a colourful, 3D art exhibition when you rise to the surface.
Flippers on? Snorkel ready? Let's head into the blue abyss. This is an art based topic and we look forward to inviting you into school to see our artwork.
What have we been doing so far in our topic?
* In English, we have written some fantasy stories where our main character has explored an amazing under water world.
* We have used our geography skills to locate the continents, oceans, North and South Pole, equator, Northern and Southern hemispheres on a world map.
* We have researched different oceans and looked at their key features such as the depth, area covered, special features and the climate. We found this information using websites and information books. Next we used our research to compare different oceans. We made a graph to show the depths of the oceans. Then we drew conclusions about our graph.
*Using our history skills, we discovered how the 1872 Royal Navy ship, HMS Challenger contributed to modern oceanography. We then applied our English skills to create a diary recount pretending we were on board the ship and writing a letter about our experience to a family member.
Autumn 2 2014
Burps, Bottoms and Bile.
Open wide - let's take a look inside! We're on a voyage of discovery to investigate the busy world inside your body!
Do you have a toothy grin or winning smile? We will be looking at how clean our teeth are and testing the effects of sugary substances on your pearly whites!
Follow a tasty morsel as it makes its way through your digestive system, helped by some mouth watering saliva! Mmmmmm! And don't forget the importance of good hygiene—at both ends!
During this science based topic, we will make a working model of the digestive system and use it to persuade others to eat healthily. We will learn how to look after our marvellous, belching, squelching, mixture making machine we call our bodies.
Year 4 really enjoyed this topic - look out for photographs of the 3D sewing they made and the songs they created to describe the digestive system.
__________________________________________________________________________________
First Aid Course
On Wednesday, Year 4 took part in a First Aid Course. The children learnt all about basic life support using the acronym DRS ABCD, which can be used to save a person's life. The children also found out what to do if someone is choking and how to put someone in the recovery position.
Danger Response Shout
Airways Breathing Circulation Defibrillation
We had a big bag of medicine and a list of how many of each thing to put in the first aid box. We were in groups of 8 and had to fill up the first aid boxes. At the end we had to practice what we would do if someone was choking" (Harriet)
"The man gave us a toy person and we had to practice what happened if the person had stopped breathing" (Daniel )
_________________________________________________________________________
Computing
We are toy designers.
Our second unit this year is 'We are toy designers' and Year 4 will be creating a prototype for a toy using scratch.
________________________________________________________________________
Autumn 1 2014
1066
It's probably the most famous date in History and for the rest of this half term ...we're travelling back to 1066! This topic has a History focus and teaches the children historical concepts such as similarities and differences between then and now. Through this topic, the children will learn the importance of chronology and how to use timelines. The Geography element of this topic will allow the children to explore the position of castles by discovering the human and physical features surrounding them. Our final project will be creating a castle of King William. We will also be analysing the Bayeux tapestry and creating our own pencil sketches.
* In English, the children have written a recount imagining they were an English soldier at the Battle of Hastings.
* Here is an example of some art work the children created during this topic. First Year 4 created timelines to show the events leading up to the Battle of Hastings. They used a range of sources including the internet and library books. Next they analysed the Bayeux Tapestry and they practiced using a range of pencils to create different tones from light to dark. Finally they drew a section of the tapestry.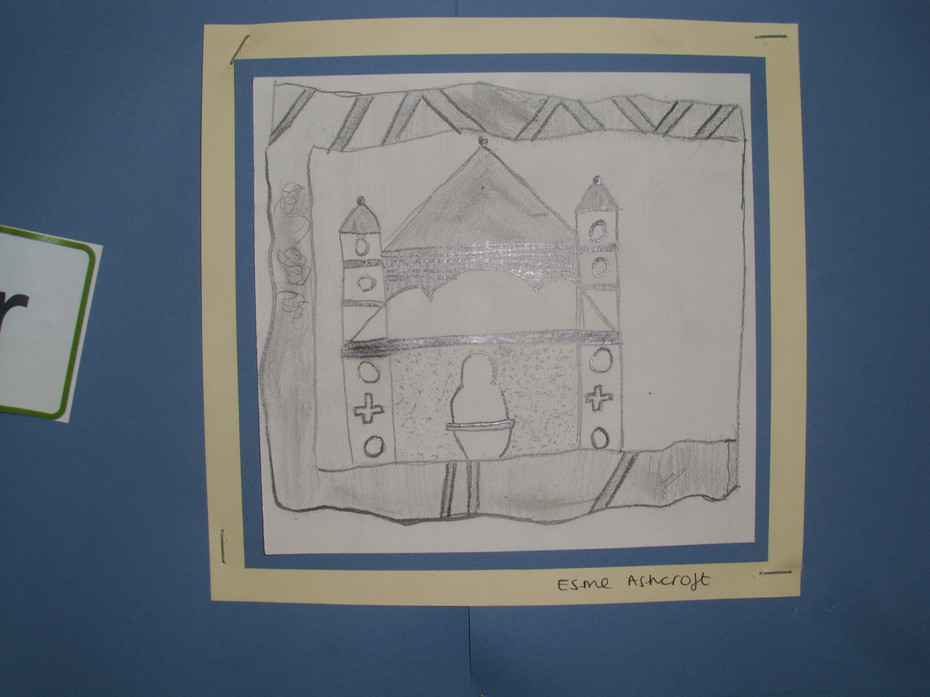 As part of Year 4's homework, they created these fantastic shields. They had to research designs used in the battle of Hastings. Some children chose to use cardboard, other used wood, or tissue paper. Some children drew pictures and somebody even created a shield from gingerbread - it was extremely tasty! The children loved sharing their work the class and it is clear to see they had put a lot of effort into their creations.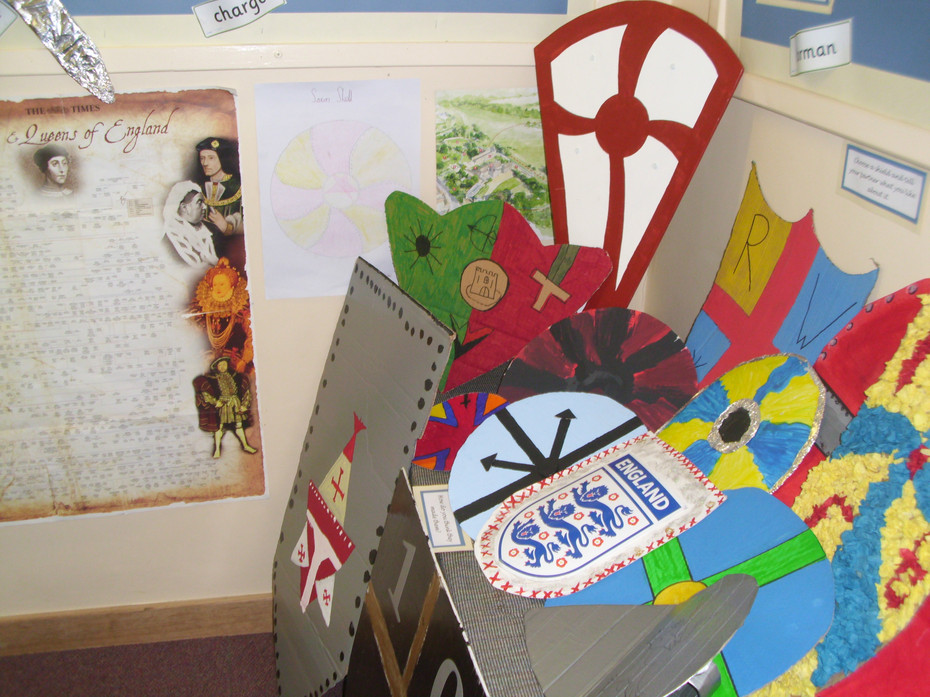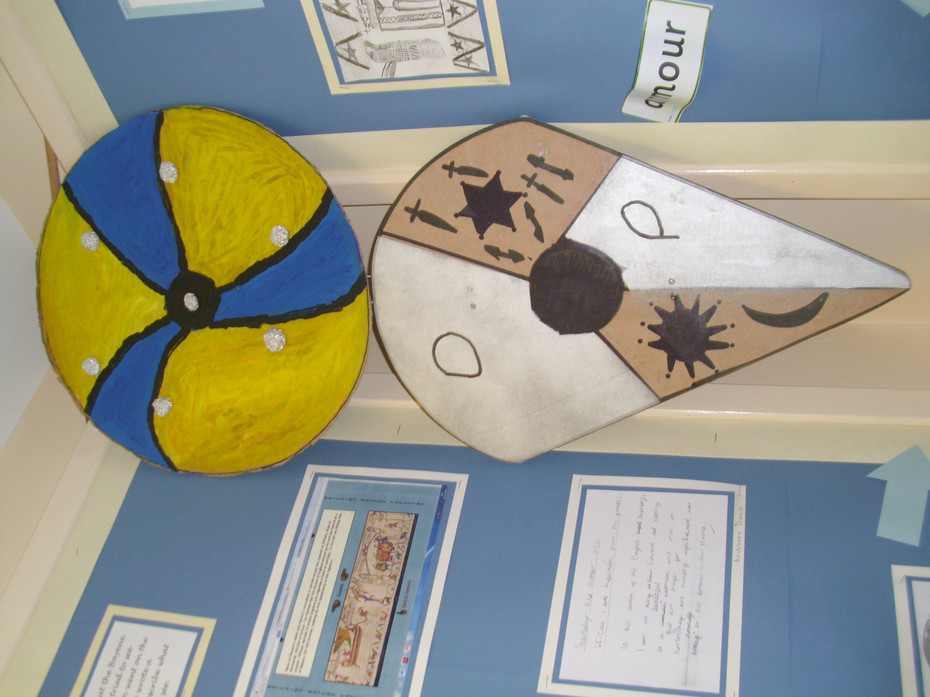 Thank you to all the parents who came to see our castle models. The children researched castles from 1066 using a range of sources and then designed how to make a motte and bailey castle. They used materials which were brought in from home to create their designs.
__________________________________________________________________________________
Computing
We are software developers.
Our first unit this year is We are software developers and Year 4 have been using scratch to create an educational game for the children in Year 3.
Below is the link for Scratch online. Year 4 - why not visit the website and show an adult what fantastic work you have been doing? You will need to click on 'Create' at the top of the page on the Scratch website.
__________________________________________________________________________________
Charlie and the Chocolate Factory
During the first two weeks of the Autumn term, Year 4 will be learning all about Charlie and the Chocolate factory. We have analysed how Roald Dahl described the chocolate room in the book and are going to invent a new room for the factory. The children have some fantastic ideas and have been working hard to describe using powerful words, similes, metaphors and personification.
They have also been designing sweets and are going to create some 3D sewings. Here are some examples of their work.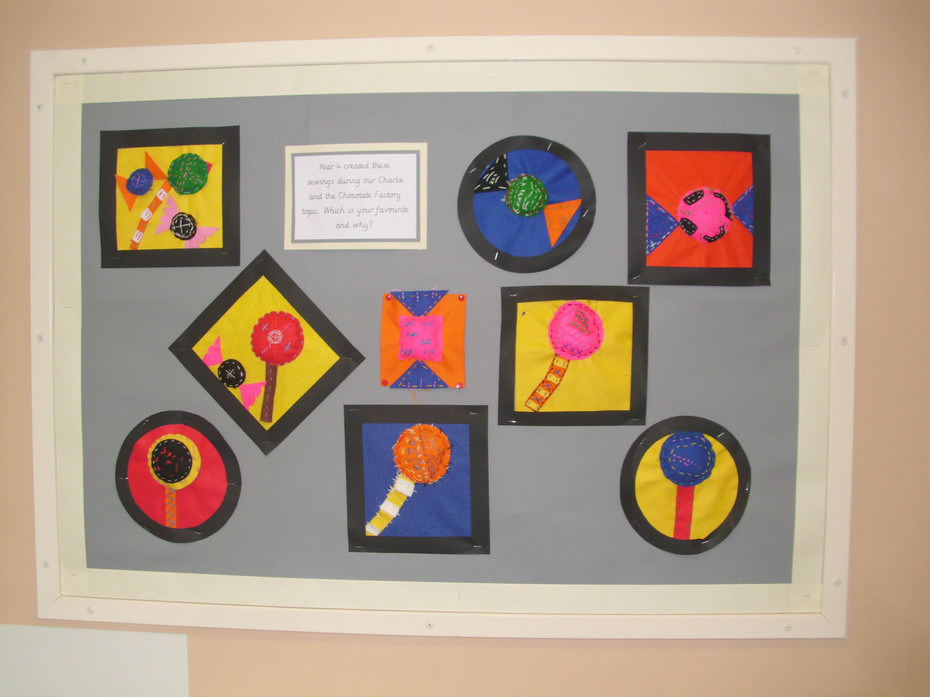 They worked extremely hard to plan out their design and use a range of stitches. They had to attach the different coloured pieces of felt together and use stuffing to give it a 3D effect.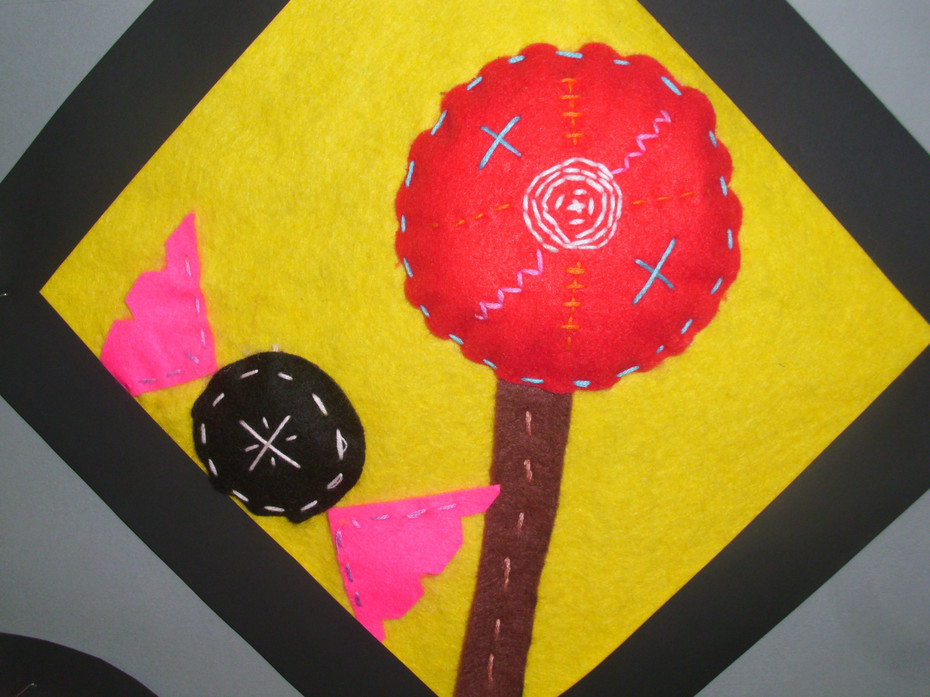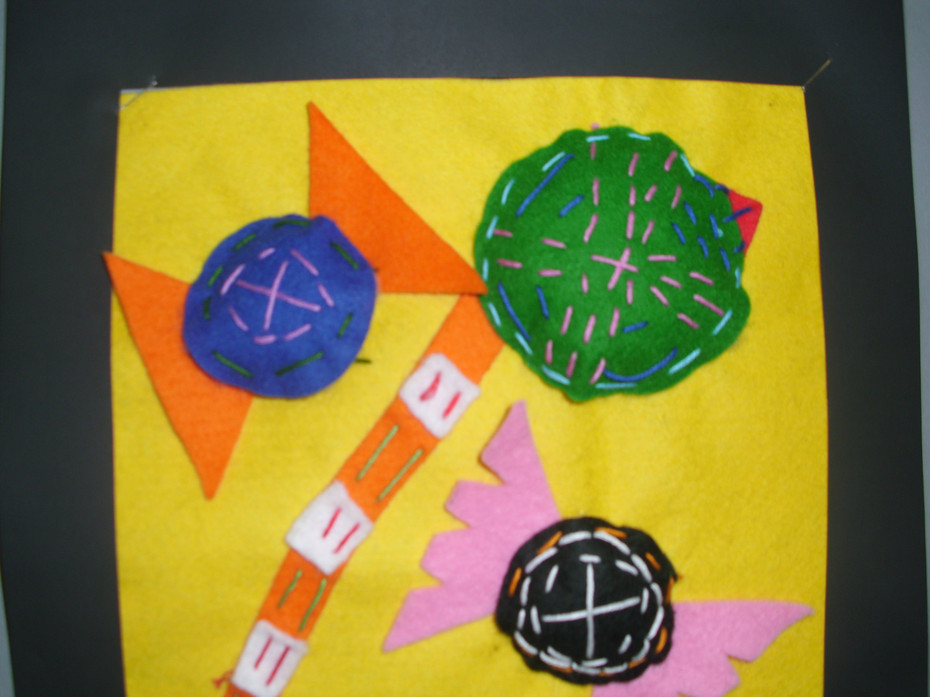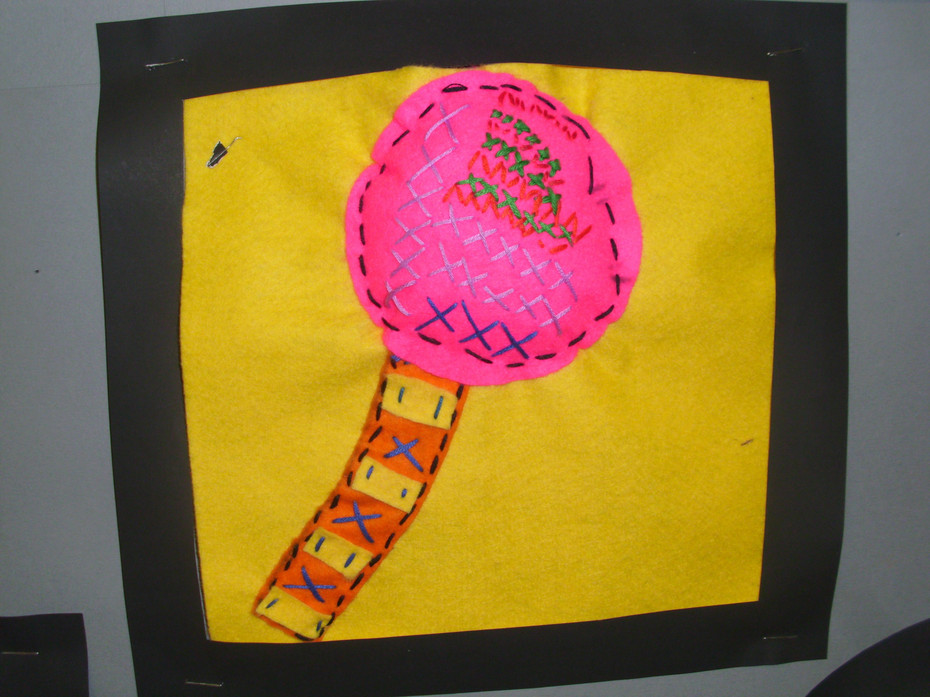 Mr Wonka's Chocolate Factory.
The whole school has been working to create a joint art project with an artist called Peter Baldry. Here are some photographs of the super work Year 4 have created.